Feb 02, 2022
DreamIT Host's New Website Launch

Introducing the New DreamIT Host Website
On Tuesday, 1 February 2022, we officially launched the new DreamIT Host website!
Our new website is designed with you, the customer in mind. We hope to provide a quick and easy way for you to find answers to your questions about our products and services. As a result, the website is organised into clear tabs with content tailored to the information you are looking for.
Domains Tab
• Register Domain
• Transfer a Domain
• Renew a Domain
• Domain Reselling
DreamIT Host is an excellent choice for domains that require domain instant activation. When you place an order, the domain is usually activated within 15 minutes. Additionally, if there is an issue with registering the domain, our team will reach out to you via support ticket.
Domain Reselling is a new feature on our website! As a Domain Reseller, you'll get access to discounted domain pricing and high-performance Australian and New Zealand web hosting services at exclusive wholesale prices. Accordingly, make DreamIT Host your number one pick for domain hosting Australia.
Hosting Tab
• Web Hosting
• Email Hosting
• SSL Certificates
• DreamIT Website Builder
For Web and Email Hosting in Australia, DreamIT Host is the perfect solution for Australian customers who are looking to start or grow their own business. Moreover, Web and Email Hosting are the most common services that people use.
DreamIT Host's Australian website hosting provides faster loading times and friendly local support. Consequently, our Australian business customers appreciate our high-performance servers in Melbourne and Sydney. In addition, they have peace of mind when dealing with our Melbourne-based support team for quick responses and assistance.
For instance, many service providers claim to be the best Australian web host but have servers and support teams based overseas. As a result, this can cause issues for Australian businesses, such as slow loading times and delays in ticket responses. Hence, you'll never need to worry about the time difference with DreamIT Host.
Email Hosting may range from simple email accounts with limited space to more comprehensive plans with unlimited email hosting accounts. You may be using a website builder that doesn't offer email hosting. Alternatively, you may need extra email storage for your hosting account. In contrast, you may not have a website and need email hosting only. That being so, we have multiple options to suit your needs so you can upgrade as your business grows.
Premier Hosting Tab
Premier Web Hosting gives you 24/7 support on Australia's fastest servers from less than $1 a day! Now, you can opt to upgrade your website to our Premier Web Hosting plans, which offer better performance and priority support.
On our Premier Web Hosting plans, you receive extras such as a Dedicated IP, Shell Access Enabled, Free Cache Configuration and 100% SLA (7 days of free service for every 60-minute block outage). All plans include phone support and our 75GB and 100GB plans also include 1-2 hours of Smart Hands (out-of-scope issues) depending on the plan you choose.
Reseller Hosting Tab
• Reseller Web Hosting
• Reseller Email Hosting
DreamIT Host is a favourite for Australian Reseller Hosting amongst design agencies, web developers and service providers. Our Reseller Web Hosting plans allow you to create your own customised high-performance web hosting plans.
All web hosting reseller packages include Unlimited Bandwidth, Unlimited Email Accounts, Free Hourly Backups, and Free SSL. For Reseller Hosting in Australia, look at our wide range of plans that cater from startups to large business customers.
Additionally, Reseller Email Hosting is great for accompanying a Reseller Web Hosting plan or stand-alone email service. What's more, you'll be able to link your Reseller Web Hosting emails with your Reseller Email Hosting. By doing this, you will save storage space on your web hosting service.
Servers Tab
Virtual Private Servers (VPS) are a way for individuals and businesses to have their own server space without the cost of a Dedicated/Managed Server. Similarly, a VPS offers a lot of the same features as traditional dedicated servers but at a lower price tag.
If you don't have your own Dedicated/Managed Server or need extra storage capacity for your business, then you might want to consider a VPS. To start, when you sign up for a VPS plan, you can choose your location (Melbourne, Sydney, or Auckland), and operating system for deployment, preferred software, backups, and monitoring options.
With our Managed Servers, you will receive a powerful server where all resources are dedicated to your service. For this reason, we recommend Managed Servers for busy eCommerce stores or for hosting multiple websites. Also, we'll take care of managing your server, so you can concentrate on what's important for your business.
CDN
• CDN
DreamIT Host's CDN has a powerful feature set, making it the ideal solution to turbocharge your websites, videos, and downloads. In fact, our CDN has 55 Points of Presence worldwide and easily integrates into popular web apps such as WordPress and Magento.
Having a CDN speeds up your website by bringing your content closer to your users. As such, it will minimise latency, maximise performance and ensure that your website is loading as fast as possible from anywhere in the world. Therefore, we highly recommend a CDN for websites with visitors from outside of Australia.
About Tab
• About DreamIT
• Blog
• Terms of Service
• Our Network
• Network Status
• Our Partners
Under this tab, you can find information about your favourite Australian web host! Here, you can get to know more about our network and partners, check the status of your DreamIT Host server, or keep up to date with our latest news and how-to guides on the blog.
New Features
It's important for both small and large businesses to have a clear understanding of their needs to identify the best hosting solution. Thus, we added a new feature to simplify this process. Our new website lets you fill out our 'Find Your Perfect Plan' quiz to receive suggestions on the best hosting plans for you and your business.
Firstly, head to our new website and wait approximately 10-15 seconds for the 'Find Your Perfect Plan' quiz to pop up on your screen. Then, you will be asked to answer the following 5 questions to receive our hosting plan recommendations:
1. What type of website do you have?
2. How many email accounts do you have?
3. Do you host multiple websites?
4. What level of support do you require?
5. Would you require our free migration service?
DreamIT Host now offers an Affiliate Program! Utilising our tools to create custom tracking links, you can recommend or refer new signups for DreamIT Host's services. Firstly, activate your Affiliate Account in your MyDreamIT Account. Next, refer new customers and earn a commission of up to $151 per qualifying signup!
For more information on becoming an affiliate of DreamIT Host, scroll down to our new website's footer, then click on Affiliate Program underneath the Company heading.
Accessible From Any Device
Our new website has a responsive design. To illustrate, our website looks great on any device, from desktop to tablet to smartphone. In addition, the new layout is more user-friendly and allows us to display content in a way that is more visually appealing for people browsing our site on mobile devices.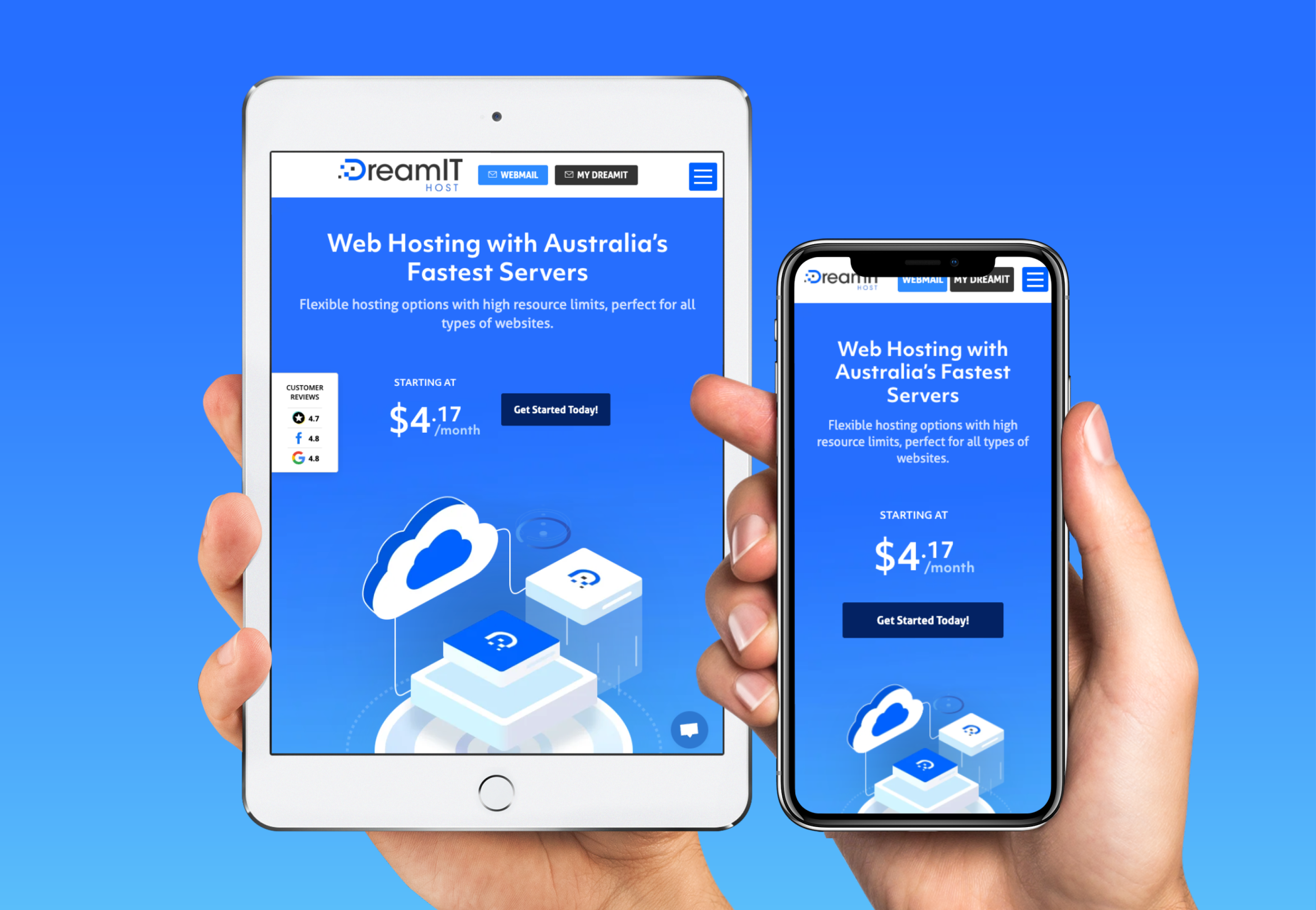 Click here to view our new website.