Feb 23, 2022
New WordPress Manager Interface for MyDreamIT
At this time, WordPress Manager is only supported on DirectAdmin based servers.
New WordPress Manager Interface
Our new WordPress Manager interface provides our clients with a sought-after capability to install and manage WordPress instances in detail. Additionally, multiple tasks can be managed without the bother of ever leaving your MyDreamIT account.
More specifically, not only will you be able to keep an eye on assorted installation details. Essentially, you can now browse through and handle plugins to be activated, manage themes, assign them into packages, generate backups, plus perform system updates. Additionally, you can automatically upgrade WordPress installations, plugins, and themes. As well as create staging WordPress instances for testing purposes to be pushed live at any later moment. The module will also allow quick access to the control panel and cache clearing, one-click installation of Let's Encrypt SSL certificates, not to mention a swift mechanism to clone the installation to a different domain.
Features
View/Create/Edit/Delete WordPress Installations:
Using Simple List of Instances
Using Extended View with Instances Preview Screenshots
View/Create/Edit/Delete WordPress Installations on Your Reseller Account
Update Selected WordPress Installations to Newest Version in One Batch
Import WordPress Installation from Remote Server
Create WordPress Installation Based on Instance Image
Log In to Admin Panel of WordPress Instances
Receive Email Notifications and Get Visual Alerts When WordPress Update Is Available
View Installation Details:
Domain And URL
Product On Which Is Installed
WordPress Version
Site Name­­­
Creation Date
Directory Path
Database Access Details
Debug Status
Instance Status
View Website Details Based on Google "PageSpeed Insights":
Desktop And Mobile Screengrab Thumbnails of Website
General Performance Information
Page Statistics
Opportunities
Audit Passed Successfully
Diagnostics
Create/Restore/Download/Delete WordPress Backups
Browse/Install/Manage Themes:
Search And Install Themes Directly from WordPress.com Base
Preview Theme Before Installation
Activate/Deactivate Installed Themes
Update Installed Themes
Browse, Install and Manage Plugins:
Search And Install Plugins Directly from WordPress.com Base
Activate/Deactivate Installed Plugins
Update Installed Plugins
Browse And Install Plugin Packages
Perform Bulk Changes on Themes, Plugins, And Backups
View/Create/Edit/Delete WP Config Records
View/Create/Edit/Delete WordPress User Accounts with Specified Privileges
Log In to Control Panel
Clear Cache
Clone To New Domain
Update To Newest Version
Change Domain
Toggle Auto Upgrade Of:
WordPress Installation
WordPress Plugins
WordPress Themes
Create Staging
Push Staging to Live Environment
Enable/Disable SSL
Enable/Disable Maintenance Mode
Create Instance Image
Delete
Single Sign-On into WordPress Panel from Product View 
Accessing WordPress Manager
2. Click WordPress Manager on the left-hand side menu.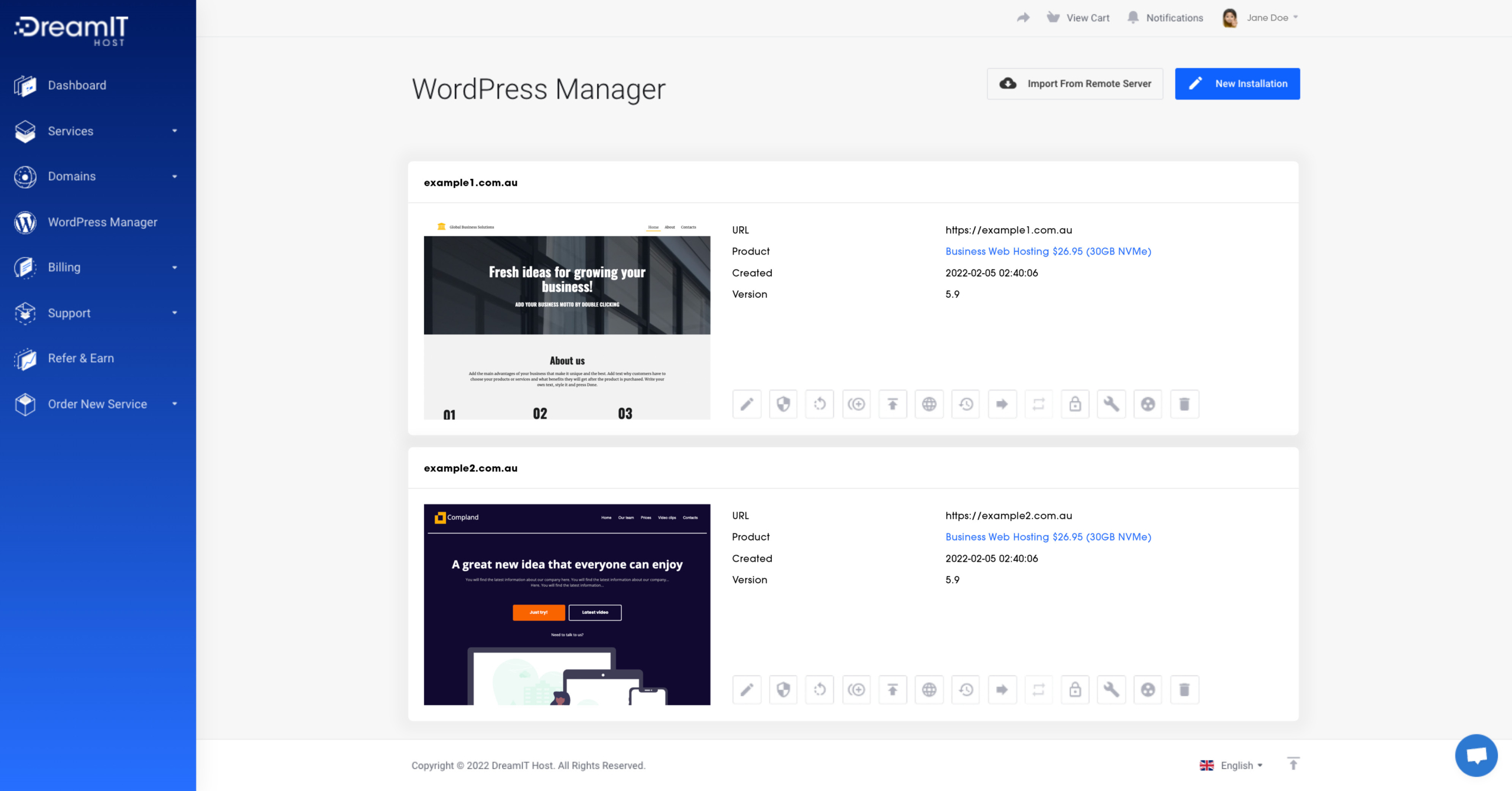 Click here to view DreamIT Host's Web Hosting plans.
Click here to view DreamIT Host's Premier Web Hosting plans.