Jul 14, 2021
DirectAdmin – The Easier Way to Manage Your Hosting Account
What is DirectAdmin?
Being a highly sophisticated web hosting control panel, DirectAdmin makes website administration easier than ever. It offers a web-based graphical interface to manage hosting options, web portals, email accounts and more. It can automate many crucial tasks for better management of web servers and a smoother website setup.
Australian Web Host, DreamIT Host, partners with DirectAdmin to bring you the best website speeds and stability. Many users have switched to this cutting-edge web hosting control panel to streamline their operations.
Why DirectAdmin?
Success in the online market majorly depends on web hosting. You need a top-notch solution to manage hosting accounts with top-end administrative options. Don't waste time with free control panels as they usually lack the security and features required to manage web hosting accounts. DirectAdmin offers everything you need and more!
It is the most user-friendly control panel available. You get all the major and minor functions are clearly outlined in one location. You can use it to access admin options, webmail, file manager, and several other options.
It consumes fewer server resources and automatically recovers from crashes to reduce downtime. Users can also customise DirectAdmin to enhance speed and performance. All these attributes make DirectAdmin the most supportive control panel for the job!
Key Features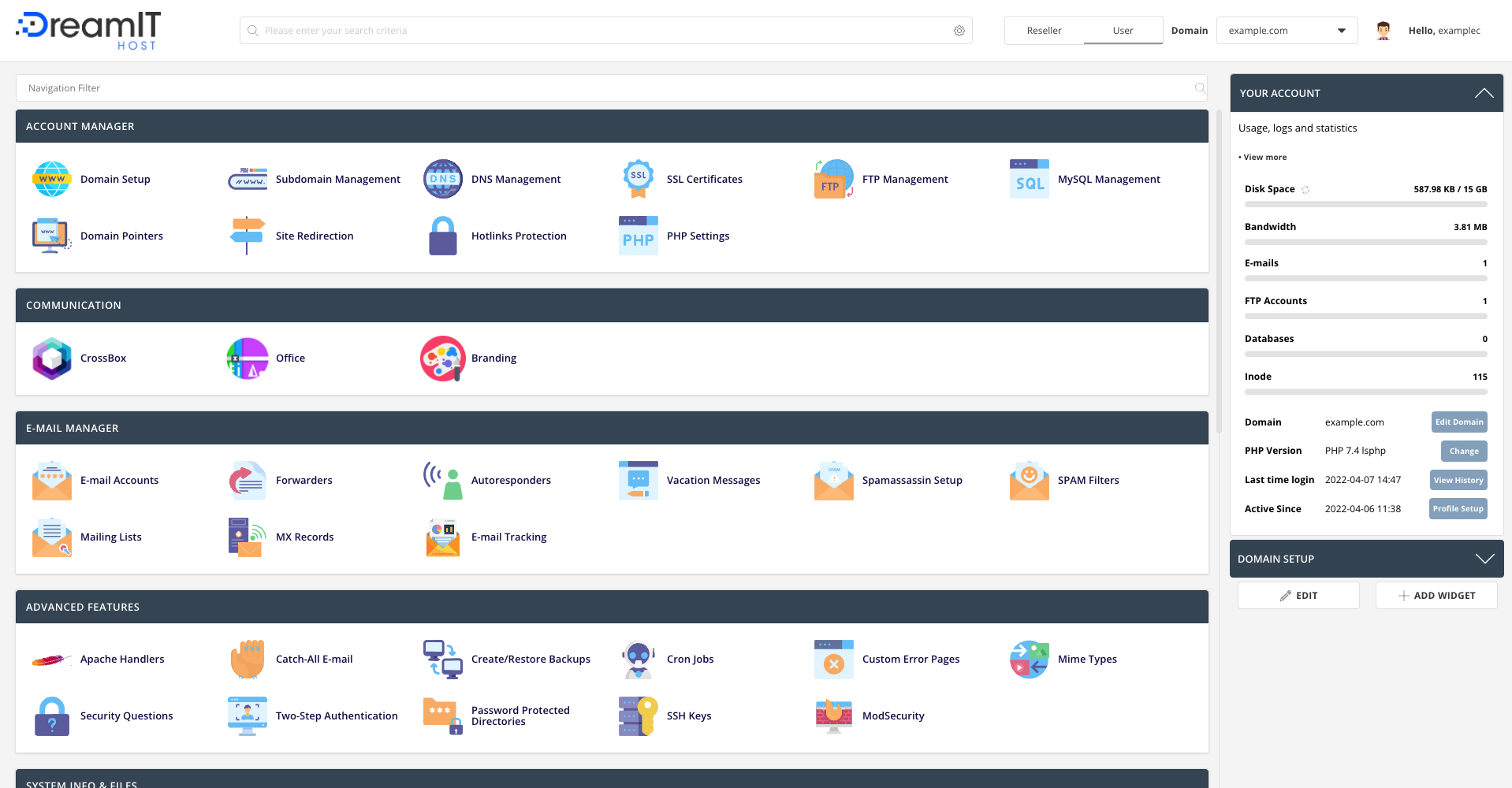 Image above: DirectAdmin User Interface
The DirectAdmin web control panel is extremely useful for both users and resellers. Users prefer it over other tools because it offers:
Account Manager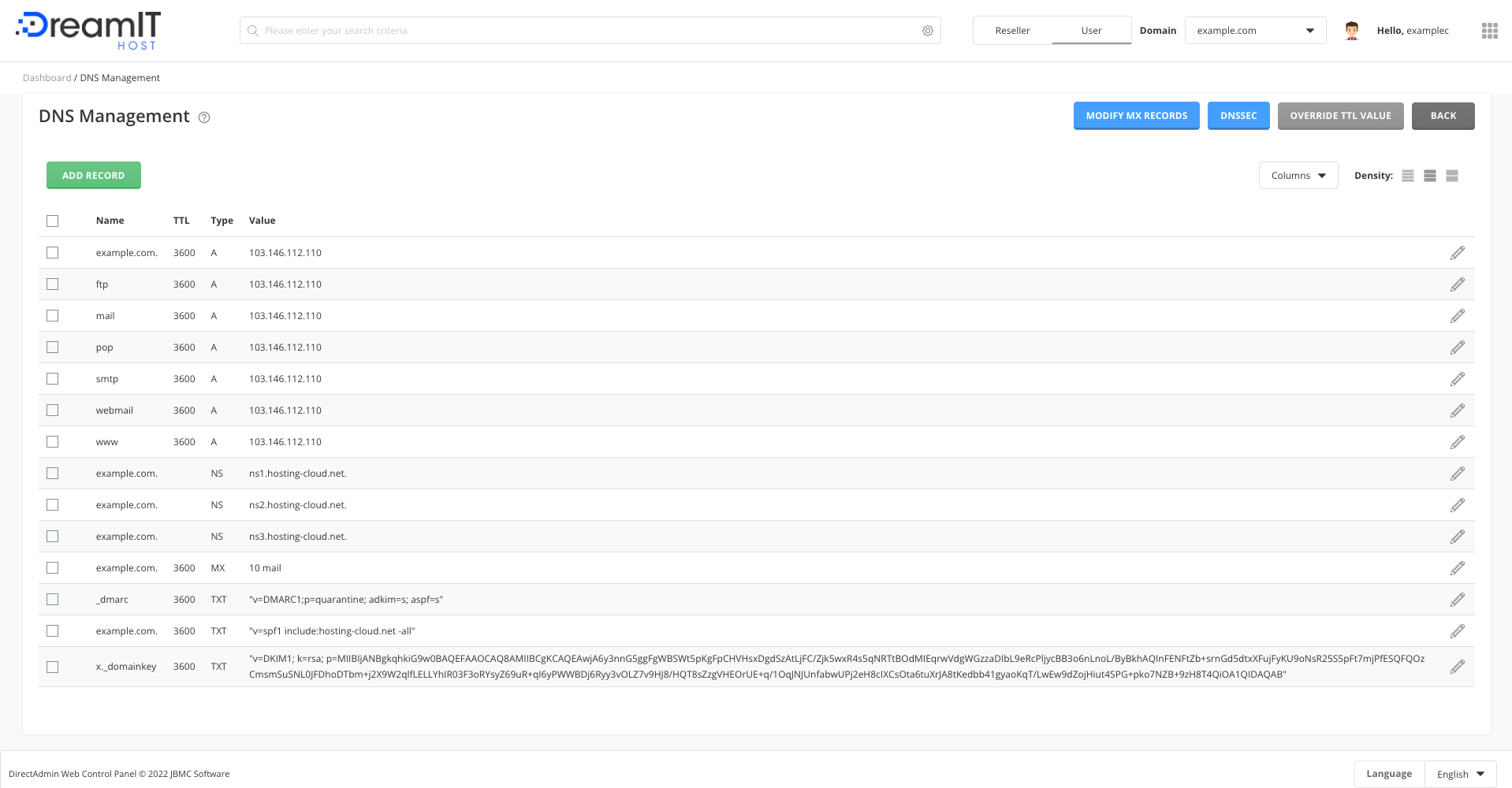 Image above: DirectAdmin DNS Management
Manage your domain setup, subdomains, DNS, SSL Certificates, FTP Management, MySQL, Domain Pointers, Site Redirection, Hotlinks Protection and PHP Settings.
Use this program to list, add, remove, and receive statistics on subdomains. It will ensure that you have got complete control over sub-domains!
Under DNS, you get the option to add or remove records, customise MX settings, and perform all the DNS control-related customizations.
You can use this control panel program to set up FTP accounts and assign directory permissions for those accounts. This tool also supports anonymous FTP!
With DirectAdmin, you can conveniently form, customise, and remove MySQL databases. You also have the ability to add users to a database and change database passwords.
Communication
Easily access CrossBox Webmail, Branding and manage your apps.
E-mail Manager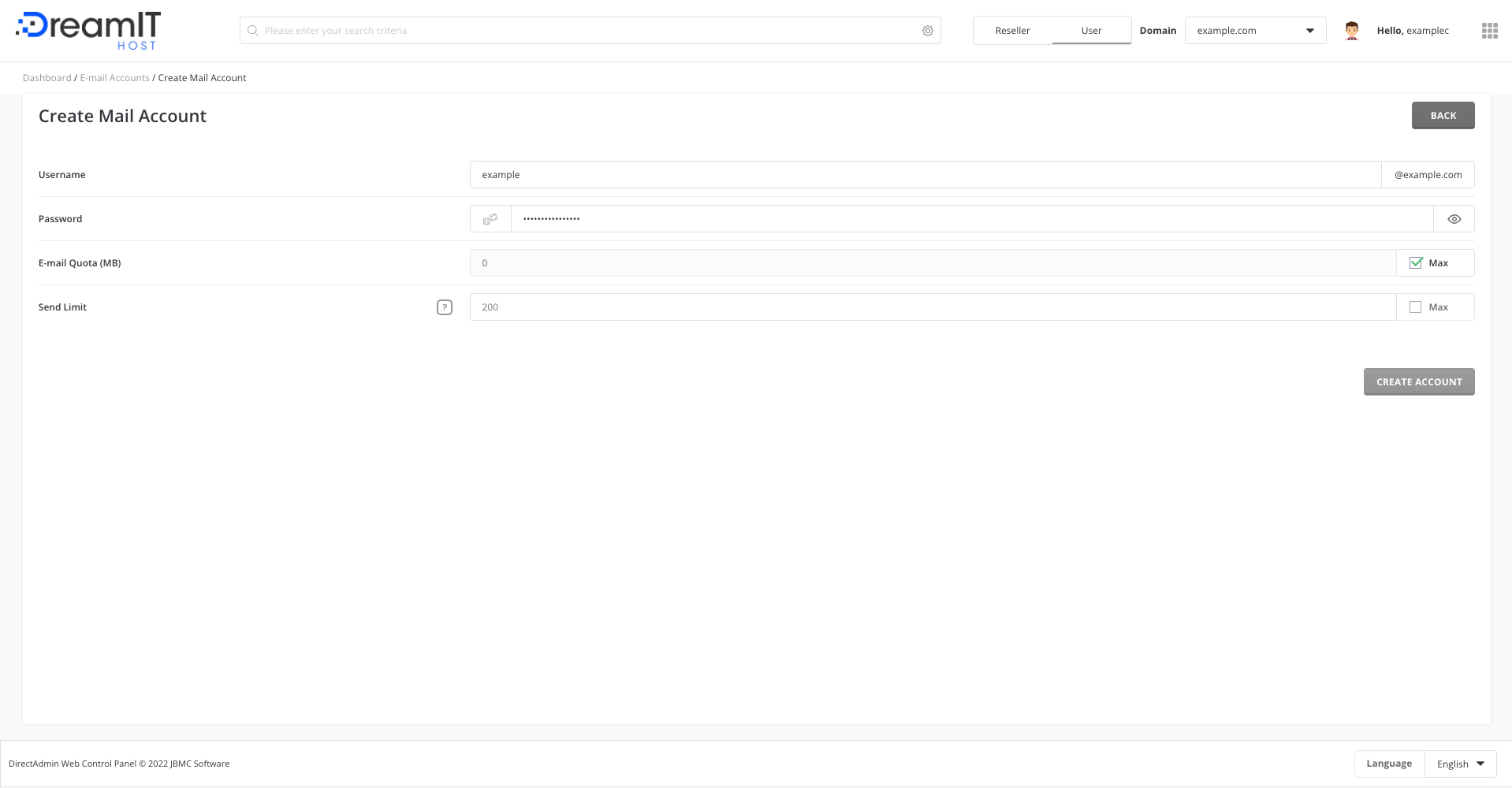 Image above: Creating Email Accounts in DirectAdmin
Manage your E-mail Accounts, Forwarders, Autoresponders, Vacation Messages, Spamassassin Setup, SPAM Filters, Mailing Lists and MX Records.
It allows you to create POP/IMAP accounts, access all your mails and manage the mailing lists.
You can use filters to block emails by keyword, domain, and the size of the mail. This control panel also offers adult filters! Therefore, you won't need multiple devices to manage all your email accounts.
Advanced Features
Personalise your hosting service by managing Apache Handlers, Catch-All E-mail, Create/Restore Backups, Cron Jobs, Custom Error Pages, Mime Types, Security Questions, Two-Step Authentication, Password Protected Directories and ModSecurity.
Create/Restore Backups makes website backups quite simple. You even get the option to only restore what you need. For example, if you only need account data, you can ignore other website files and get the required data restored.
If you do not want to display error codes, such as 401, 403, 404, and so on, you can display custom error pages. Thus, you can better describe an issue to ensure the user won't switch to other platforms.
You can pick any directory and lock it so that an unauthorized user cannot access the data without the right username and password.
System Info & Files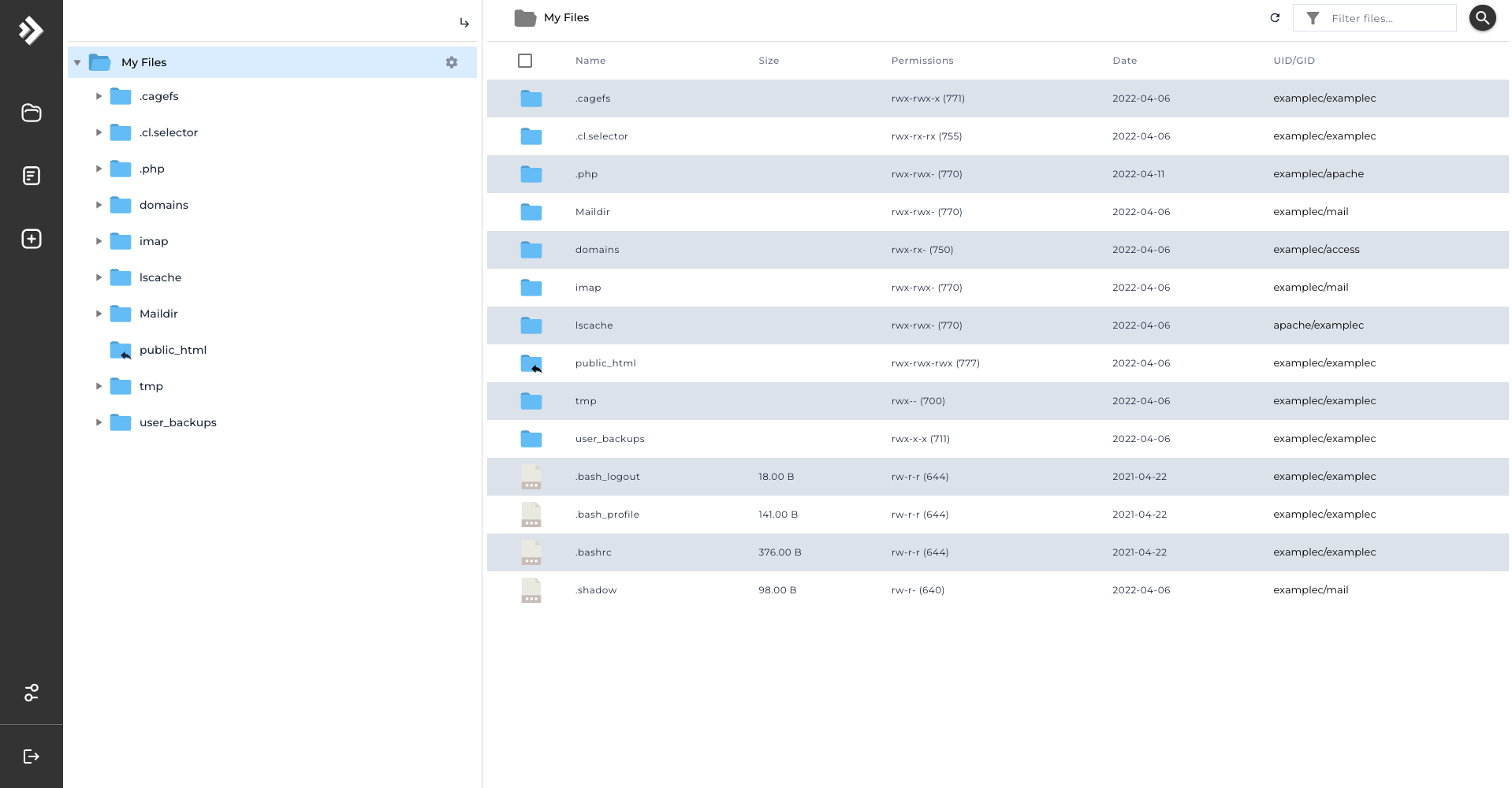 Image above: DirectAdmin File Manager
Access your File Manager, Installed Perl Modules, System Information and Site Summary/Statistics/Logs.
File Manager is a fast and comprehensible alternative to the FTP. You get all the tools and features required to craft and maintain a profitable website!
This control panel provides comprehensive information about the managed account. Webalizer and other advanced features are also added to help you with analysing statistics.
Extra Features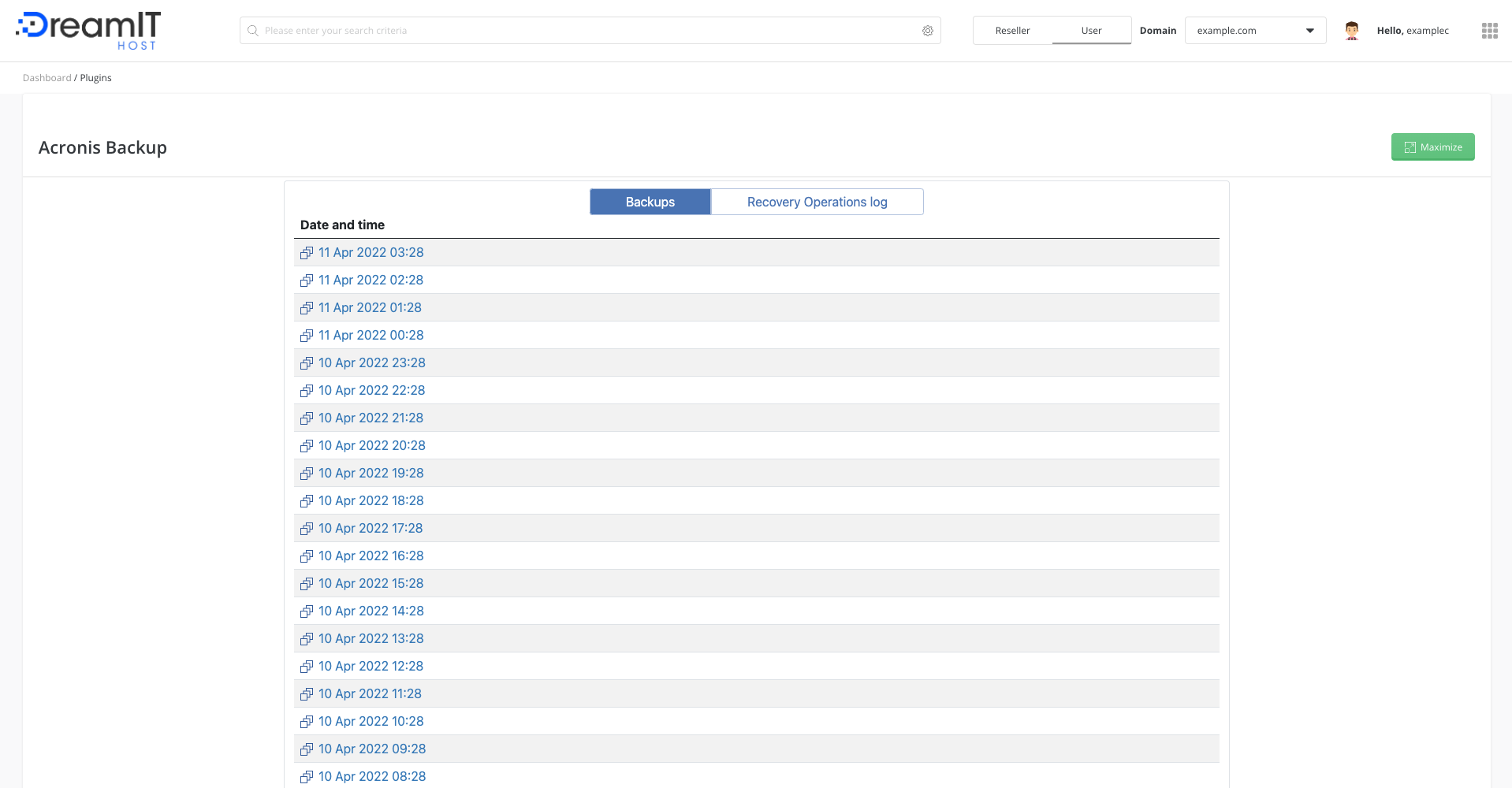 Image above: DirectAdmin Managing Acronis Backups
Here you will find Webmail Roundcube, phpMyAdmin, cPGuard Security, Communication, Acronis Backup, ConfigServer MSFE, Setup Node .jss App, Select PHP version, Setup Python App, Resource Usage, Website Builder and Softaculous Auto Installer.
Select PHP version enables the selection of the right PHP version. You can try this feature to associate the best PHP version with the .php extension.
Support & Help
By clicking on the Help icon, you will be led to the DirectAdmin Site-Helper, which lists guides for everything that DirectAdmin has to offer. This will help you make the most out of the web control panel and your website.
Softaculous Apps Installer
Install your favourite web apps with just a few clicks! Here you will find WordPress, Joomla, AbanteCart, php88, SMF, WHMCS, Open Real Estate, MyBB, Dolphin, pH7CMS, Laravel, OpenCart, Concrete5 and ClipBucket. If the app you are looking for doesn't have a shortcut located here, then scroll back up to the heading Extra Features and click on the icon for Softaculous Auto Installer.
Reseller Features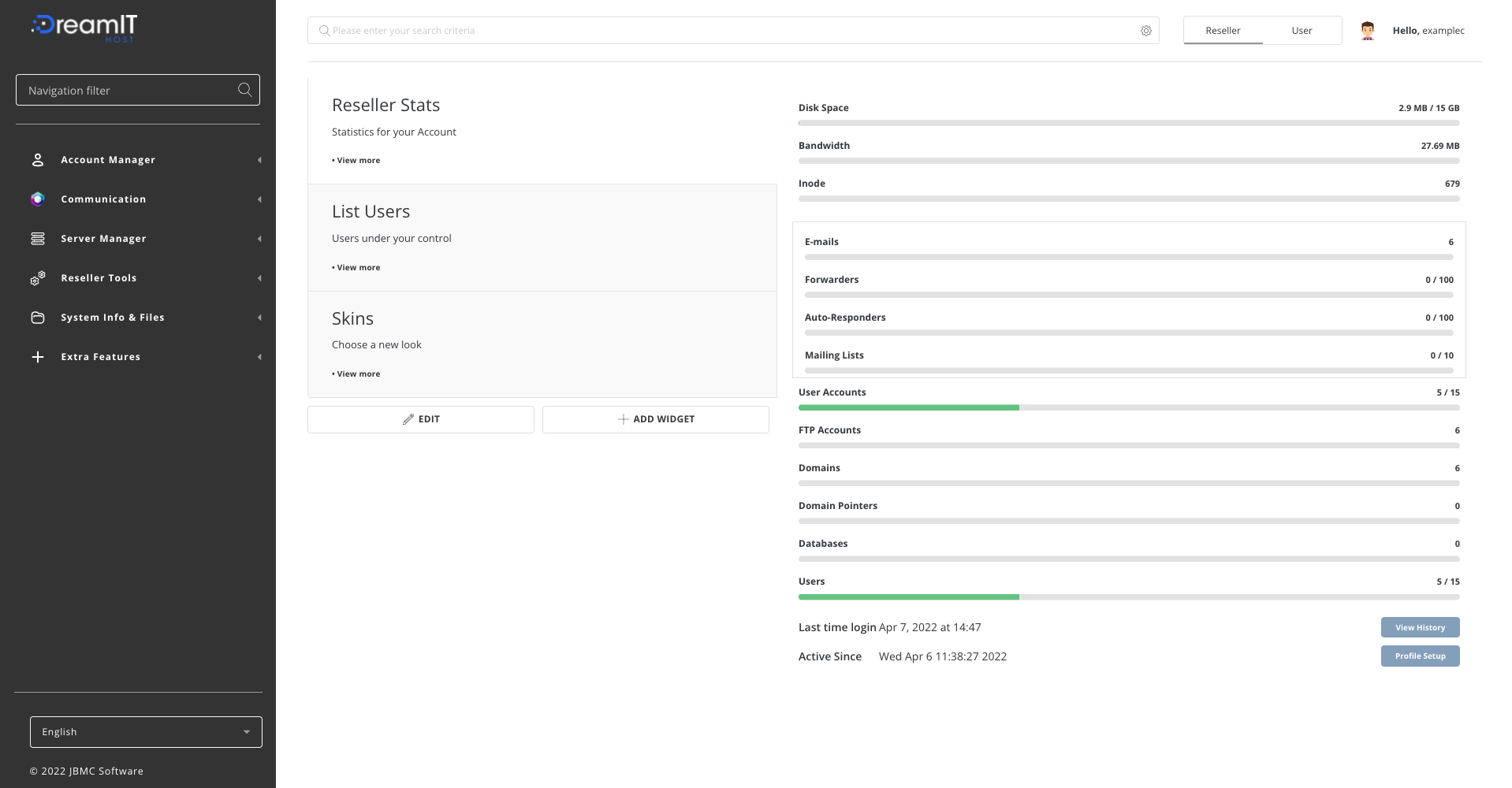 Image above: DirectAdmin Reseller Interface
With DirectAdmin, many operations become pretty simple when you are using this program to manage reseller hosting in Australia.
Being a reseller, you can use this control panel to craft predefined user packages, as well as create, modify and list accounts.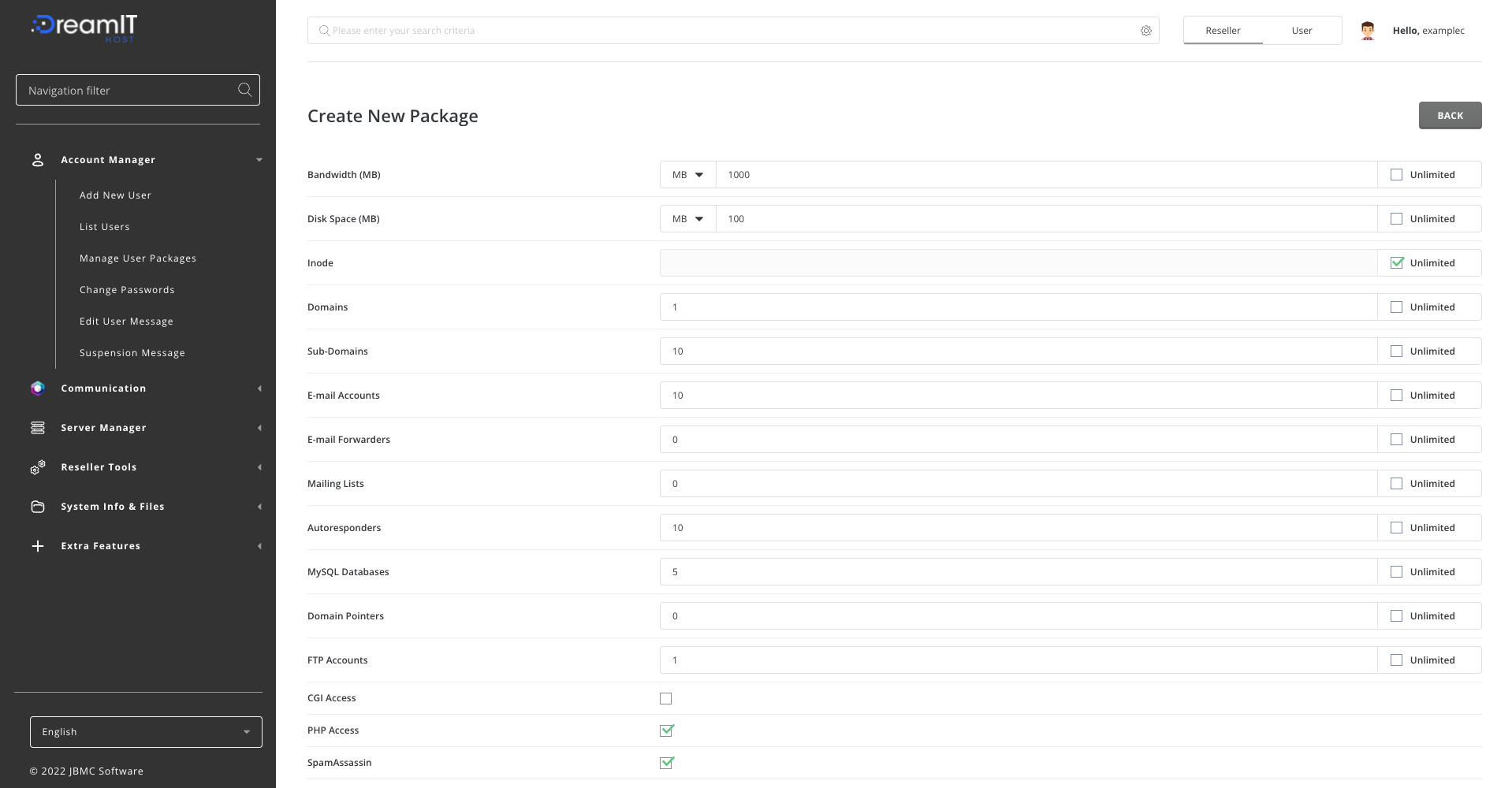 Image above: DirectAdmin Creating User Packages
You can gain access to the total use of the resources. All the statistics are provided, and you can also use this control panel to sort the data.
DirectAdmin provides an instant messaging service so you can create and send messages to numerous clients quickly.
There is an IP Assignment menu for resellers, which is used to assign an IP address to new clients.
If you go to the System/Services information menu, you can instantly view information on the server status and system performance.
You can even personalize servers with unique names.
Essentially, this control panel ensures you manage all aspects of your websites when using services offered by the leading Australian Web Hosting service. The DirectAdmin web control panel is equipped with features that you can't get with other Australian hosting programs. It is affordable, reliable, and extremely efficient to manage numerous websites simultaneously. That's why it is entertaining thousands of happy clients today!
For more information on any of these features or to find out more about the functionalities of DirectAdmin, feel free to contact our team via email at hello@dreamithost.com.au or speak to us now on live chat!
Click here to view DreamIT Host's Web Hosting plans.
Click here to view DreamIT Host's Reseller Web Hosting plans.