Aug 11, 2021
What Comes First… Building a Website or Choosing a Host?
Do you build a website then choose a web host or choose a web host then build a website?
Looking to enter the online world but you are not too sure where to start? A definite answer doesn't exist as to whether building a website or choosing a host comes first. However, for individuals, new businesses or resellers, signing up to a hosting provider before building your website does have its benefits!
For Individuals/New Businesses
You need both a web host and a domain name to build a website so choosing a host first is a great place to start! By signing up for an Australian Web Host, such as DreamIT Host, you will be able to find the perfect hosting plan and domain name for your website.
There are multiple hosting options available to best suit your needs depending on the type of website you plan on hosting. DreamIT Host's standard Web Hosting plans cater to new websites, blogs, portfolios and low to medium-traffic websites. For more advanced websites, the Premier Web Hosting plans are perfect for eCommerce websites and high-traffic websites. The Startup Web Hosting plan is a great place to start for new websites as you can always upgrade your plan as your business or website traffic grows.
DreamIT Host's plans offer the fastest Web Hosting in Australia. All plans include a Free SSL Certificate, NVMe Storage, Unlimited Bandwidth, Unlimited Email Accounts, 10 Addon Domains and Free Hourly Backups.
Best of all, the DreamIT Website Builder is included on all Web Hosting plans. With our website builder, you will be able to create a new website using a simple drag-and-drop editor, which requires no skill to get started. Choose from over 190 templates to use as a foundation for all types of websites, such as a blog, portfolio, an eCommerce website, a business website, a media website, a magazine website and more! Simply add in your columns and content, then edit your website's text and images by clicking on them within the builder. From the moment you purchase your hosting plan from us, you can have your website up in minutes!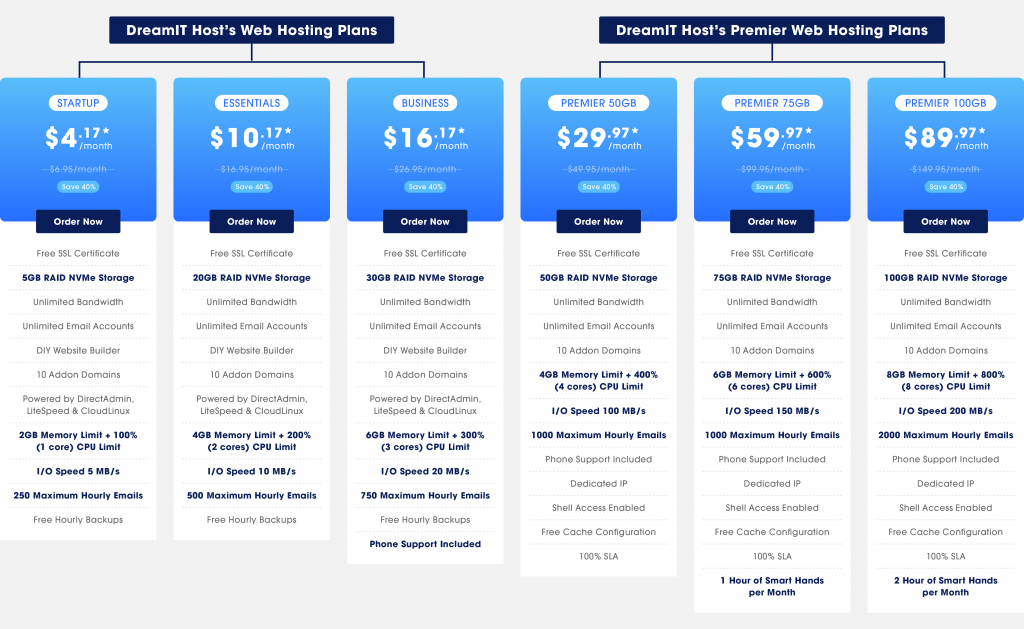 Click here to view DreamIT Host's Web Hosting plans.
Click here to view DreamIT Host's Premier Web Hosting plans.
For Resellers
Your go-to provider for cheap Reseller Hosting in Australia is DreamIT Host! Reseller Hosting is recommended for design agencies and web developers. By purchasing a Reseller Web Hosting plan first, design agencies and web developers will be able to offer more to their clients. Without a hosting plan, you limit yourself to only offering your clients a web design service. With a hosting plan, you can design the website and have it online as soon as it's ready! Clients will be inclined to choose your services over your competitors if you can deliver them a complete web design and hosting package!
DreamIT Host's Australian Reseller Hosting plans are powered by DirectAdmin, LiteSpeed and CloudLinux. These partners help to deliver an easy to use control panel and the best possible website performance for you and your clients. Six plans are available to cater to the number of accounts and storage space you may need, with the option to upgrade your plan as your business grows.
The most basic Reseller Hosting option is the 'Startup Reseller Hosting' plan, which offers 15 DirectAdmin Accounts and 15GB RAID NVMe Storage. If you require higher resources, the 'Business 300GB Reseller Hosting' plan offers 200 DirectAdmin Accounts and 300GB RAID NVMe Storage. Additionally, all plans include Unlimited Bandwidth, Unlimited Email Accounts, Custom Packages, 2GB Memory Limit + 100% (1 core) CPU Limit, I/O Speed 5 MB/s, Free Hourly Backups and Free SSL Certificates on all DirectAdmin accounts.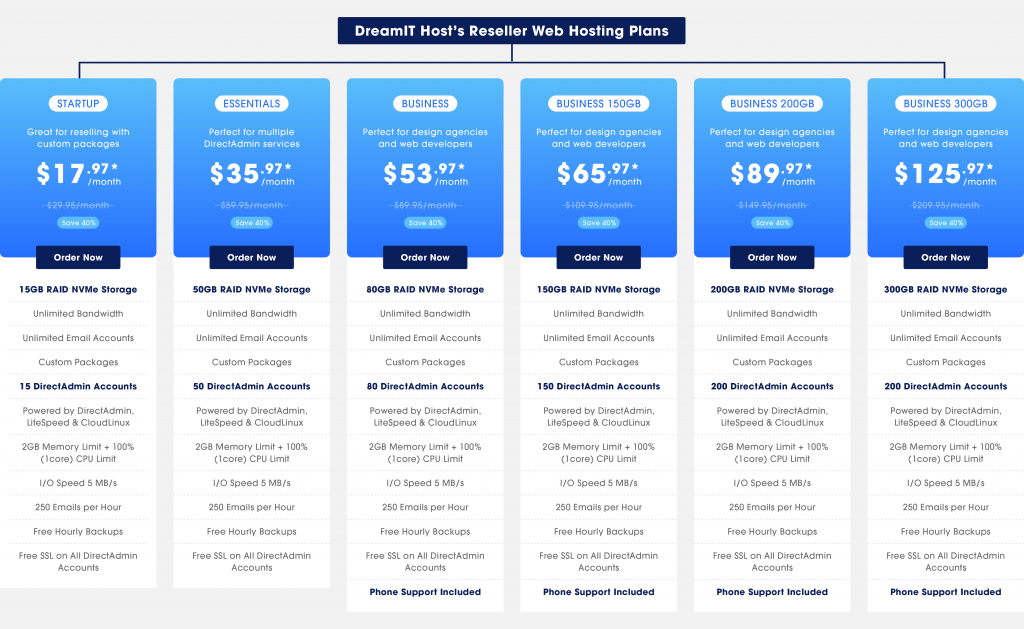 Click here to see DreamIT Host's Reseller Hosting plans.
Choosing a Host
If you are starting a new website, we highly recommend looking at DreamIT Host's Australian Web Hosting and Reseller Web Hosting plans first. Each plan will ensure that your website is loading at its fastest, secured with SSL and ready to go live once your design is complete!
Unsure of which plan is right for you? Don't waste any more time trying to guess which features and specs will best suit your needs. Please reach out to the DreamIT Host team via live chat or email at hello@dreamithost.com.au. We will make choosing a host and selecting the right plan easy!