Mar 24, 2021
Affordable Web Hosting vs Premier Web Hosting
DreamIT Host's Web Hosting vs Premier Web Hosting
Affordable web hosting is the ideal way for small businesses, freelancers and entrepreneurs to get their website online. Likewise, the affordable plans from our Australian web host company make it easy to get up and running.
For people or businesses that require additional bandwidth, features and support. DreamIT Host's Premier Web Hosting plans will be very appealing. In fact, these plans include increased storage, unlimited data transfers, premium support and other perks.
Below is a rundown explaining the differences between the standard Web Hosting and Premier Web Hosting plans from DreamIT Host.
DreamIT Host's Standard Web Hosting
Perfect for new websites, blogs, portfolio websites and low to medium-traffic eCommerce websites.
DreamIT Host is proud to offer one of the most affordable web hosting options. Our Startup Web Hosting plan starts from $4.17* per month.
The Startup Web Hosting plan includes SSL, 5GB NVMe storage, unlimited bandwidth and email accounts, DIY website builder, up to 10 add-on domains, 250 maximum hourly emails, and a 2GB memory limit.
Additionally, there are also Essential Web Hosting and business web hosting plans. Priced from $10.17* and $16.17* per month. These two plans include upgrades to 20GB and 30GB storage, 4GB and 6GB memory, and 500 and 750 maximum hourly emails respectively.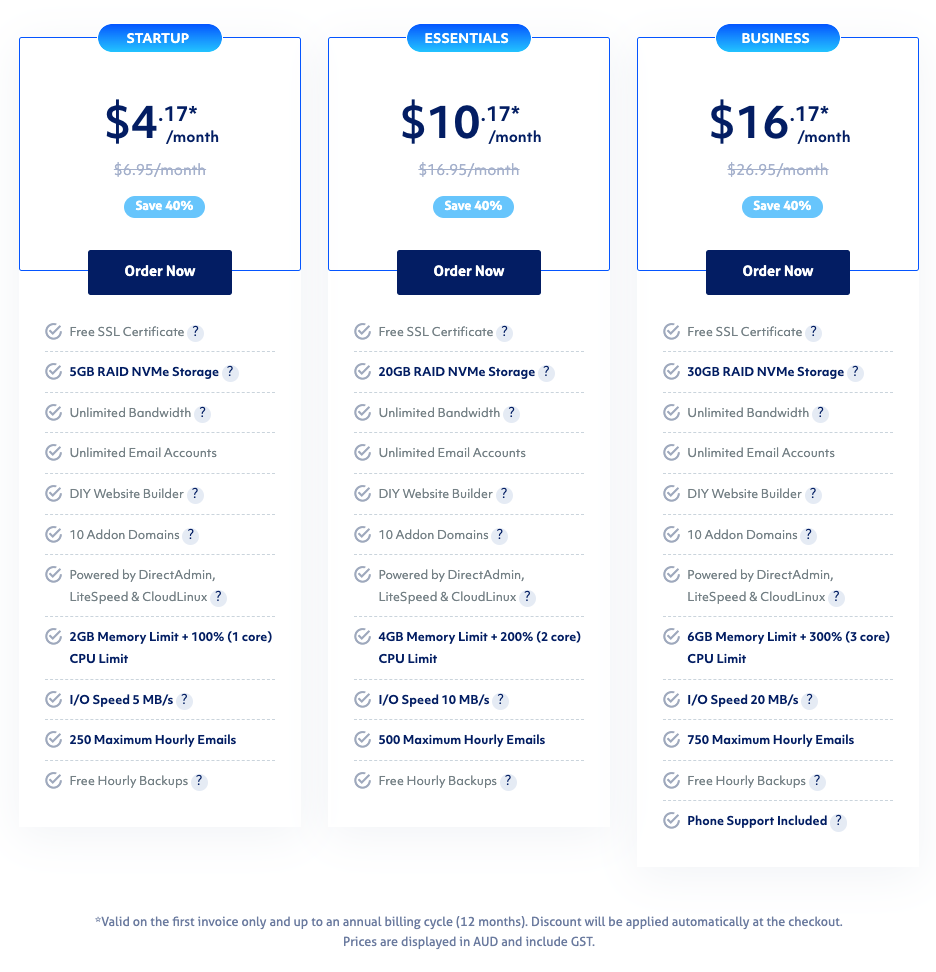 DreamIT Host's Premier Web Hosting

Perfect for busy websites and high-traffic eCommerce websites.
Our Premier Web Hosting plans are excellent for businesses, freelancers or entrepreneurs. Similarly, those who have a resource-intensive website or those who expect heavy site traffic. As a result, these plans are the perfect options for eCommerce websites.
The plans include Premier Web Hosting 50GB, 75GB and 100GB plans. Priced from $29.97*, $59.97* and $89.97* per month respectively. Moreover, these plans include unlimited data transfers, email mailboxes, 10 add-on domains, and other features.
The differences between the three plans include the size of NVMe storage, memory limits, I/O speed and the number of maximum hourly emails. Premier users also benefit from jailed SSH access, dedicated IPs, shell access, free cache configurations, and 24/7 server monitoring.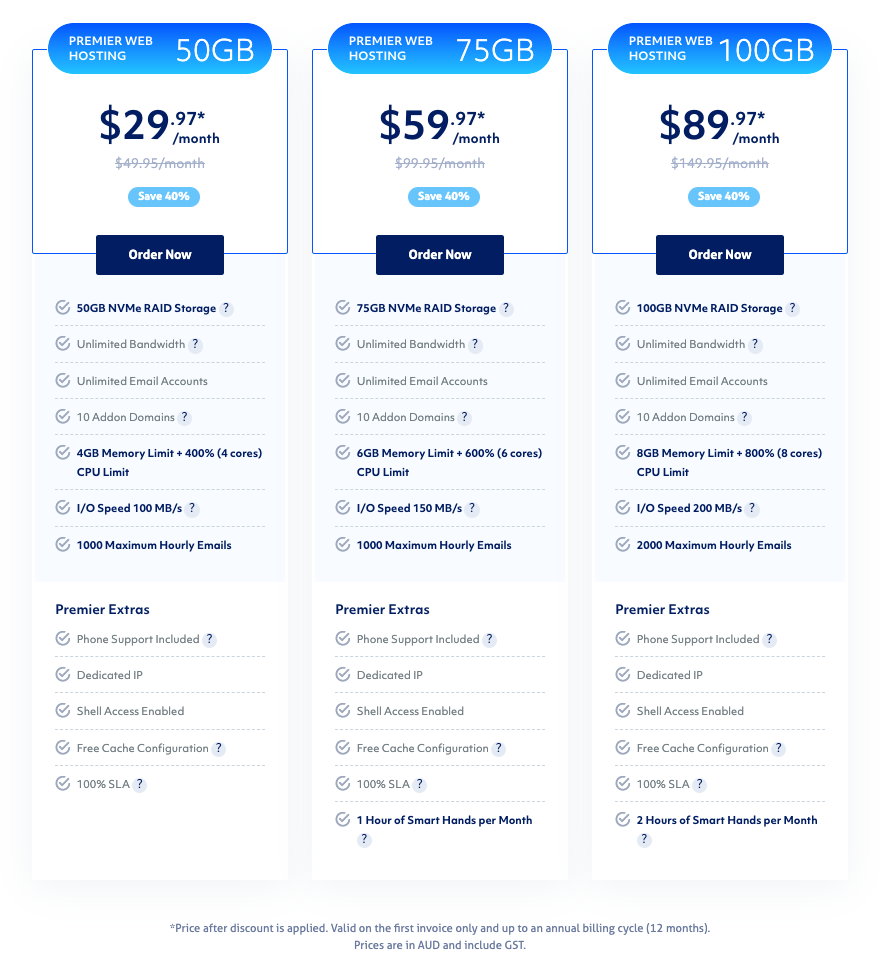 Choose the Very Best Web Host
DreamIT Host goes the extra mile for all its customers. Nonetheless, including perks that are not available from other providers. Our support team is 100% Australia-based. Consequently, ensuring comfortable and prompt communication whenever there is a support inquiry.
How to Select the Best Australian Hosting Plan
The plan you choose will be the one that best suits your immediate business needs. However, with some added room for growth. Clients who are focusing on affordability and reliability will be content with the features offered within our standard plans.
Furthermore, for those seeking more power, additional support, and other benefits. We recommend looking at the Premier Web Hosting plans. In brief, these plans may have a higher monthly cost. However, they ensure your resource-intensive or heavy traffic website does not experience any hiccups, even during peak hours.
Importance of Web Hosting
Choosing the correct web hosting plan from a top Australian web host is so important. Especially, if you want to achieve success with your digital strategy. In conclusion, having a reliable, world-class web host ensures better performance for your websites.  By choosing DreamIT Host, you can benefit from no downtime and fast loading times for site visitors. Also, an effortless experience while uploading, tweaking and maintaining your site.
Click here to view DreamIT Host's Web Hosting plans.
Click here to view DreamIT Host's Premier Web Hosting plans.
To learn more about how DreamIT Host can support your business, read Australian Hosting for Small Businesses.