Nov 03, 2021
Low-Cost, High-Performance Premier Hosting
Premier Hosting Plans
Performance, speed, and functionality are vital elements that propel the business world on digital channels. At DreamIT Host, we understand the needs of businesses and have designed our Premier Web Hosting plans to cater to eCommerce and high-traffic websites. We are an Australian web host that has been around for a couple of years now, offering hosting solutions to numerous clients.
Clients subscribing to our Premier Web Hosting plans will have 24/7 Australian support on Australia's fastest servers, and you will have the freedom to choose your server location from any of the three available ones – in Melbourne, Sydney, or Auckland. Our web hosting Australian servers are highly scalable, available, and secure. More so, our services are flexible, and customer satisfaction is a top priority.
Pricing
You can get our support services from as low as $1 AUD per day. This is after a discount has been applied, and the discount is only valid on the first invoice. However, it can be activated for up to an annual billing cycle. Do note that the prices are inclusive of the goods and services tax.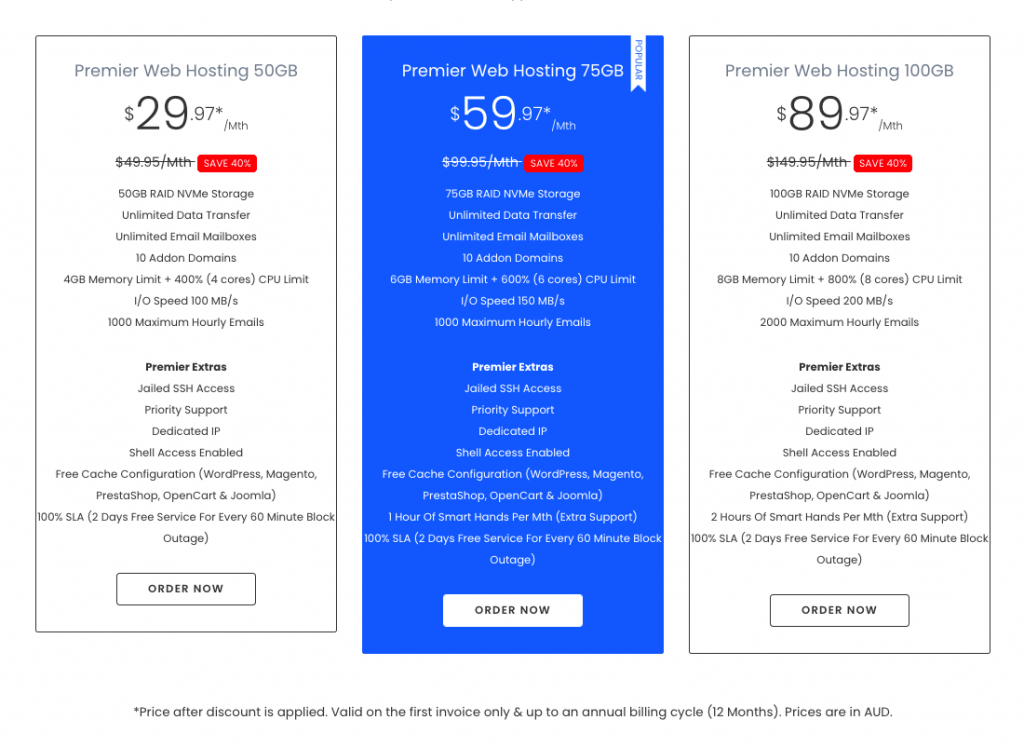 Features
CloudLinux OS
The integration of the CloudLinux OS means more stable and secure server usage is guaranteed. As a result, you will be able to efficiently control resources thus optimising website operation.
Click here
to learn more about CloudLinux OS.
LiteSpeed Web Server
To further promote stability and efficiency, we have adopted the profoundly scalable technologies availed by the LiteSpeed web server. This is especially helpful for eCommerce and high-traffic websites.
Click here
to learn more about LiteSpeed Web Server.
DreamGuard Server Firewall & Antivirus
You will not only have the fastest web hosting in Australia at your disposal but also have access to a highly secure server as you sign up for one of our Premier Web Hosting plans. Our DreamGuard server firewall and antivirus system will ensure that intruders and other malicious attacks are adequately checked.
Click here
to learn more about DreamGuard.
Dedicated IP
Accessing your website through the dedicated IP, which we shall provide, will eliminate service interruptions. It will even enable you to have better control over access to sensitive information — as unauthorised access is proactively averted. Furthermore, eCommerce stores will find this very valuable as customers attempt to make payments for orders.
Shell Access Enabled
As a means of ensuring that you have some measured control over the communication between your website and the server, secure shell access is enabled. As a result, this would further scale up the execution of specific tasks.
Other Features:
– DreamRelay for high-performance SMTP – I/O speed up to 200MB – MailScanner Spam Protection – Priority support – Up to 2 hours of smart hand service per month – 100% uptime SLA
Hosting with DreamIT Host
Our Premier Hosting plans are top-notch and purposefully designed to drive business goals. If you are considering hosting in Australia as you hope to establish an efficient and highly functional website for a sustainable business, you should sign up today. Furthermore, DreamIT Host is very much ground for you if you've been having trouble hosting your website on a secure and stable server over time. Why shouldn't you consider the fastest web hosting in Australia? Contact us right away and leverage our unlimited bandwidth possibilities. 
Click here to view our Premier Hosting plans.