Aug 12, 2020
How to Access Your WordPress Error Log
Follow these steps to access your WordPress error log:
If you are running a WordPress based website and having issues with your website loading, you can access the error logs.
1. Log in to your cPanel account.
2. In the Files section, click on the File Manager icon.

3. From here, you will need to navigate to where your website files are. Most commonly in your public_html folder. Click on the public_html folder.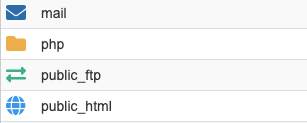 4. Look for the file error_log. Right-click this file and click View. This will display the errors your website is running into by date.