Oct 14, 2020
Automate Your Business with Blesta
Blesta Billing Software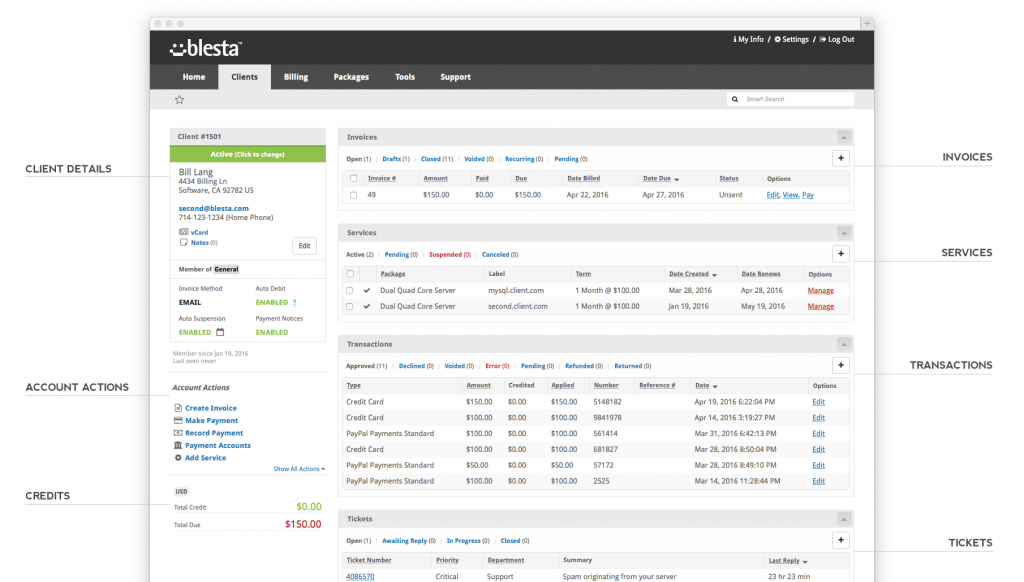 An online-based reseller hosting business often has too many moving parts to keep track of. However, having the right tools and making informed choices can heavily simplify the tedious process of managing an online company.
A common solution for many businesses is to hire more individuals to better manage different departments. This, unfortunately, is not always an option. Small online companies such as start-up design agencies and freelance web designers may have limited funds or may not want to expand their teams.
This having been said, companies such as DreamIT Host have developed new offers such as Reseller Web Hosting services. These are designed specifically for customers who want to offer hosting as part of their service packages.
What is Reseller Hosting?
From a technical point of view, Reseller Hosting is a service package that includes the ability to resell disk space to third parties. For example, design agencies who offer web-based products may also choose to include website hosting as part of their deals.
Reseller Hosting enables them to take the server space that an individual has purchased from the web hosting company and resell it to their clients. However, a large number of web hosting companies that offer these services do not make it easy for their clients to resell server space and bandwidth.
DreamIT Host is currently one of the few Australian Reseller Hosting companies to offer services that are specifically designed for businesses. The main advantage of their hosting packages is having access to the Blesta billing software, which allows for an impressive degree of automation.
What is Blesta?
The Blesta billing software is a popular choice among web hosting companies. It offers a large number of features, all of which are well-documented and easy to use. However, Blesta truly shines when it comes to customisability.
The app allows users to modify the interface, the dashboard, the billing overview, the client profile screen, and all of the pre-packaged widgets. Furthermore, most of the templates, gateways and modules are not encoded to allow users to customise the billing software for maximum efficiency.
It is also worth mentioning that Blesta supports Reseller cPanel integration and can be completely integrated with web hosting services.
Blesta offers several features that can help make your job easier. Administrators are able to automate:
Invoicing

– Invoices are automatically generated every time services renew. They can be set up to be delivered by email, prepared for printing, faxed, or mailed;

Provisioning

– The software is able to automatically handle all provisioning;

Suspension

– Blesta can be set to suspend the accounts of clients who do not pay their bills on time or who no longer wish to renew the service;

Payment processing

– The software can also handle payment processing in multiple currencies, and through several gateways such as PayPal and Authorize.net;

Payment reminders

– Blesta can be configured to send customers payment reminders. These can be scheduled for delivery at a set number of days before suspending the accounts;

The reselling of domains

– It is also possible to set Blesta to resell domains after they have been suspended for a certain period of time.
Your choice of a web host is important to the success of your business. Not all companies that offer Australian Reseller Hosting services include Blesta in their plans, which means that if you want the additional functionality of the billing app, you need to choose wisely.
DreamIT Host is currently one of the most popular companies that are offering unlimited Reseller Hosting and all of the company's Reseller Hosting plans include Blesta (with the exception of Startup Reseller Hosting).
The software is fully integrated into the Reseller Hosting plans and the DreamIT Host tech support teams are constantly on stand-by in case users need the help of any sort. When it comes to finding the best Reseller Hosting in Australia, there aren't many companies that can compete with the speed and efficiency of DreamIT Host.
Sign up to DreamIT Host's Reseller Hosting plans that include Blesta billing software

Click here to view DreamIT Host's Reseller Hosting plans.